Elizabeth Warren has won her election fight for a seat in the US Senate[
Link
].
I wrote about Elizabeth Warren's work a few years ago after I read her paper on the US healthcare system[
Link
]. Her findings were startling - she found that most people who were bankrupted by medical bills had insurance. These were not irresponsible people who did not buy coverage for themselves and their families. Yet, when they got sick, they fell through various cracks and ended up bankrupt.
The passionate professor who spent the last few years giving lectures to explain what she saw as the collapse of the middle class, joined the Democratic Party and defeated the incumbent Massachusetts Republican Senator Scott Brown to win a senate seat:
Watch the video very carefully and listen to her explanation of what led to the collapse of the US middle class. Her detailed analysis of family expenditure over the last 3 decades showed how family savings declined in the US and the key factor that led to the decline was the rise in housing prices. High housing prices along with rising medical cost that consumed a larger and larger component of household income destroyed the American middleclass.
"But those who held on to their homes, I've seen their property values going up, five times, 10 times, 15 times, 20 times. This was the plan which we had from the very beginning, to give everybody a home at cost or below cost and as development takes place, everybody gets a lift, all boats rise as the tide rises." - ex- MM Lee Kuan Yew
[Link
]
PAP leaders have seen rising home prices as a good thing implementing "asset enhancement" as a national policy. Home prices rising 20 times without the corresponding rise in income means that middle class families find it harder to own a home today than 20 years ago. It puts young families into heavy debt and puts them at risk. Elizabeth Warren's speech was given in Jan 2008 before the financial crisis hit and took property price down destroying much of 'paper property wealth' that middle class families were supposed to have "accumulated". When property prices rises faster than median income, there is really no easy net wealth created because in order to cash out of your HDB at a profit you need another Singaporean family to get deeper into debt. You keep doing this until debt levels are no longer sustainable and the merry-go-round stops..it is pattern that has been repeated around the world.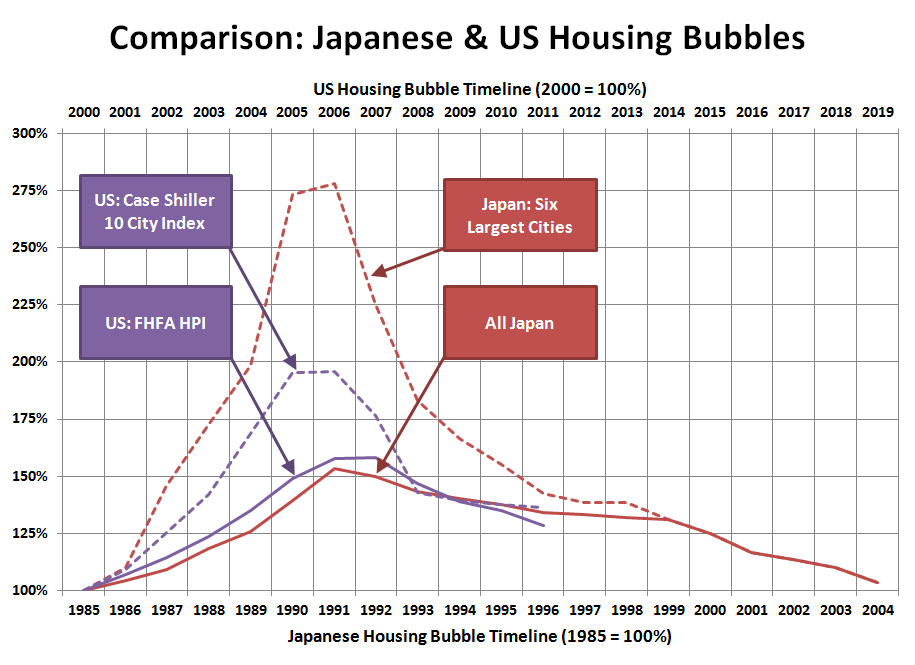 If you look at the 5 year chart of HDB resale prices, it is no different from the bubbles we have seen in these countries.
They can try to keep it inflated by importing people, pushing up the population density and allowing foreign investors into the private residential market to trickle down the demand...but you cannot go on doing it forever and you can't do it without putting more burden and risk on the middle class.
Whatever your opinion of the SDP housing plan, the most important thing is they understand and recognize the urgency and depth of the housing and healthcare problems and are willing to put up bold ideas and open the discussion. The PAP govt's national conversation seem to perpetually revolves around how many foreigners we should allow into the country - where are the solutions to the problems faced by Singaporean families? 2 days ago, we saw yet another report by a govt agency, the NPTD, justifying the need for more foreign workers[
Link
]...so where is the solution for the rising healthcare cost?
A few weeks ago, a young boy had meningitis and was hospitalized for 50 days (24 days in ICU, + 3 operations to relieve pressure in the brain) . Because the parents were low income PRs, they it is likely they received 55% in subsidies under Class C. The unpaid bill came to $130K (without subsidy it would have been $290K) and in order not to bankrupt the family, KK Hospital put them on a 42 year installment. Singaporeans households with income of above $5200, under Class C will see a bill of $101K, if granted an installment plan that is equivalent to $1000 for 8 years or $500 for 16 years.
If you still don't see the need for a universal healthcare plan that ensure everyone is covered including those with pre-existing medical conditions, be prepared to see more such cases and many in the middle class burdened by the high and rising cost of medical care. When Obama's healthcare plan comes to effect, we will be the only developed country without a healthcare scheme that ensures everyone is can afford medical care including those with pre-existing conditions.
During Elizabeth Warren's campaign, she spoke frequently about "leveling the playing field" for everyone in society. Leveling the playing field is an endless task as the rich and powerful will always try to influence the system to secure as much advantages as possible - examples include securing govt expenditure such as tax breaks, reduction of capital gains taxes, reduction of income tax for high income earners, reducing the minimum wage etc. These tax expenditures have proved costly for the American govt who now have to cut spending on much need social programs. In the 2012 US Elections, billionaire Sheldon Adelson who made billions in the casino business spent millions donating to the campaign of several candidates to push for outcomes he wanted[
Link
] - fortunately Americans could see through this and every candidate he backed lost.
"I think the basic notion is right. Nobody got rich on their own. Nobody. People worked hard, they built a business, God bless, but they moved their goods on roads the rest of us helped build, they hired employees the rest of us helped educate, they plugged into a power grid the rest of us helped build,"
- Senator Elizabeth Warren[Link]
When the income gap in our society grows, we have to reduce our spending on tax cuts for the rich to level the playing field. Social mobility is in itself necessary not sufficient ...but even that is much eroded in Singapore.Less than half the PSC scholarships are given to children staying in public housing when 80% of Singapore families live in HDB [
Link
] - a child from a richer family is 4 times more likely to get a PSC scholarship than a child staying in a HDB flat. The education system is such that those who are able to spend more on good quality pre-school and external coaching (tuition)[
1 in 2 who engage tuition teachers spend more than $500 per month
] get an advantage in our education system .
If we do not pursue a change of policies at a fast enough pace, the current system will erode our middle class and create an permanent underclass in our society. The longer we take the more elusive the solutions becomes as the tradeoffs become deeper and problems become more complex.